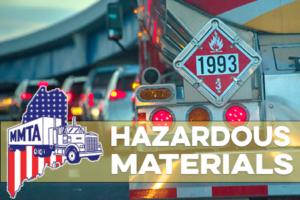 TOPICS TO BE DISCUSSED:
Hazardous Material Tables
Packaging
Marking
Loading & Storage
Documentation
Placarding
Labeling
Security & Background checks
DATES AND LOCATION:
October 1, 2021
Time: 8:30 a.m. to noon
$100 for MMTA members | $150 for non-members
Price includes HAZMAT Regulations (Handling Hazardous Materials).
To be held at the MMTA office at 142 Whitten Road in Augusta.
Pre-registration required!