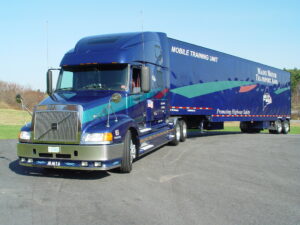 We have a 1998 Volvo 770 road tractor and a trailer painted to match the tractor that serves as a self-contained classroom that can be setup at any location.
Training ranges from Management/Supervisory Training, Defensive Driving Classes and Mechanic Training. It is being used extensively throughout Maine, New Hampshire, and Massachusetts to educate the public on the importance of highway safety and "How to Share the Road with Trucks".
This unit has appeared at Driver Education Classes, School Career Days, Civic Events, Convoy for Kids, Truckers Drive for Kids in New Hampshire, and The Maine Truck Driving Championships.
Showing their concern for highway safety, the following companies have supported the MMTA Mobile Safety Unit:
Al Henriksen Trans.
ArvinMeritor, Inc.
Bangor Truck & Trailer Sales
Bangor Tire
Bangor Signs & Marketing
Brake Service & Parts
Cadec
H.O. Bouchard Inc.
J & S Oil Co.
Maine Commercial Tire
Thayer Corp
Volvo Truck North America
For information please call (207) 623-4128 or email Randy DeVault