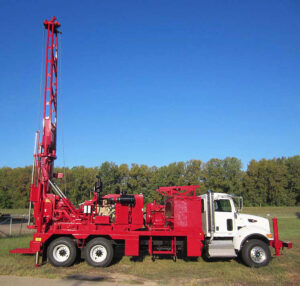 Maine Motor Transport Association
Recently an issue developed in Maine regarding an MMTA member who was stopped by the Maine State Police, Troop K, and inspected at roadside.  Several questions regarding the weight of the vehicle and how it was registered prompted many calls from this member and other well drillers who were inquiring how to properly register a well drilling rig and what the legal weight can be.  This article is intended to outline the regulations involved and explain the process for properly registering a well drilling rig in Maine.
Most well drilling rigs are over the legal road limit for both gross and axle weights, based on their configurations.  This is due to the tools and equipment that they are set up for in order to perform the job they are designed to do.  As such, the vehicles cannot be registered in the same manner as trucks or truck tractors and must be registered as Special Mobile Equipment, Class A.
Drilling rigs should register as Special Mobile Equipment, Class A at their municipal office.  You must register for the total gross weight of the vehicle with all of the tools necessary to operate the vehicle. By law, special mobile equipment cannot transport other property or passengers not related to the rig's primary function. The vehicle is also subject to excise tax in the same manner as other vehicles and this is paid during registration at the municipal office.  The town office will give you a TRACTOR plate for the vehicle. These vehicles are not subject to Heavy Vehicle Use Tax (HVUT).
Once the vehicle is properly registered, an annual over limit permit is required to be obtained from Maine BMV in accordance Title 29A §2382 and with MDOT rule chapter 157.  Vehicles that are within 15% of legal road weights for trucks are eligible to obtain an annual overweight permit.  Vehicles that exceed 15% would be required to obtain individual permits each time they travel.  Cost for this permit is currently $303.
As you have read, the rules and regulations can be complicated!  As always, members may call Maine Motor Transport Association for assistance and guidance with the regulations at 623-4128.  The supporting laws and regulations are provided below for those interested:
GUIDE TO COMMERCIAL MOTR VEHICLE REGULATIONS:
https://www.maine.gov/sos/bmv/commercial/Commercial%20Vehicle%20Laws%20&%20Regulations%20(June%206,%202012).pdf
 LEGAL GROSS AND AXLE LIMITS – Title 29A §2353:
https://legislature.maine.gov/legis/statutes/29-A/title29-Asec2353.pdf
DEFINITION OF SPECIAL MOBILE EQUIPMENT, Title 29A §101(70)
70.  Special mobile equipment.  
"Special mobile equipment" means a motor vehicle with permanently mounted equipment not designed or used primarily for the transportation of persons or property. "Special mobile equipment" includes, but is not limited to, road construction or maintenance machinery, ditch-digging apparatus, stone crushers, air compressors, power shovels, cranes, graders, rollers, trucks used only to plow snow and for other duties pertaining to winter maintenance, including sanding and salting, well drillers and wood-sawing equipment or similar types of equipment.
Special mobile equipment is divided into Class A and Class B special mobile equipment. Well drillers must be registered as Class A special mobile equipment. All other special mobile equipment may be registered either as Class A or Class B special mobile equipment.
DEFINITION OF SPECIAL MOBILE EQUIPMENT, Title 29A §513
https://legislature.maine.gov/legis/statutes/29-A/title29-Asec513.pdf
Title 29A §2382. Overlimit movement permits
https://legislature.maine.gov/legis/statutes/29-A/title29-Asec2382.pdf
MDOT RULE CHAPTER 157 LINK: