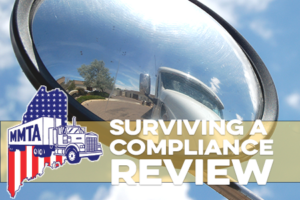 Is your company ready for an audit?
This class will cover the compliance requirements necessary to survive a compliance review or new entrant safety audit. Students will learn the BASICS that FMCSA or the Maine State Police will review during the audit… And will come away with increased confidence that your company will successfully pass the audit.
Each attendees will receive the Management Edition of the Federal Motor Carrier Safety Regulations.
DATE AND LOCATION:
November 5, 2021
Time: 8:30 a.m. to noon
To be held at the MMTA office at 142 Whitten Road in Augusta.
Pre-registration is required!