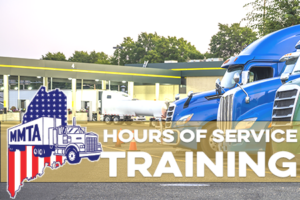 Description
Common Questions:
How is the sleeper berth time handled under the regulations?
How does "off-duty" time count in the 14-hour rule?
How do the Federal Hours-of-Service Regulations affect my company?
Under what conditions can a driver start a new 60-hour/7-day or a 70-hour/8-day schedule?
How many hours may my drivers work and/or drive?
AND MANY MORE!
Topics:
Hours-of-Service
Regulations & Enforcement
Answers to Frequently Asked Questions
Each attendee will receive an Hours of Service & Driver Logs Workbook for Property Carrying Vehicles (a $9.50 value).
Who should attend?
Company owners
Dispatchers
Safety Directors
Drivers
Others who are involved with checking drivers logs for accuracy and the company's compliance with Hours-of-Service Regulations.
When
January 28, June 3, July 22, & October 21
8:30 a.m. to noon
Where
Held at the MMTA conference room at 142 Whitten Road in Augusta.
Cost
$70 for members | $95 for non-members
Be sure to follow us on social media to learn about upcoming trainings!
Register