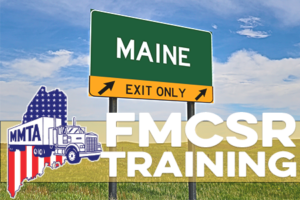 Over the past several years many changes have been made that affect the trucking industry. Among the most significant are those affecting the Hours-of-Service, Load Securement, and Driver Training areas of the Federal Motor Carriers Regulations. The State of Maine has also adopted many of these changes.
WHO SHOULD ATTEND?
Company Owners
Dispatchers
Safety Directors
Drivers
Others who are involved with checking drivers logs for accuracy and the company's compliance with Federal Motor Carrier Safety Regulations.
TOPICS TO BE DISCUSSED:
Motor Carrier Profile
Driver Qualifications
Hours of Service
Load Securement
and much more!
GET ANSWERS TO THESE COMMON QUESTIONS
What records do I need in the Driver Qualifications files?
May my drivers log "off-duty" for lunch?
How have the load securement regulations changed
Do I have to conduct driver background checks?
Do I have to release information about drivers who have worked for the company?
When do my drivers need to be alcohol and/or drug tested?
Under what conditions can a driver start a new 60-hour/7 day or a 70-hour/8-day schedule?
How many hours may my drivers work and/or drive?
Each registered attendee will receive a copy of the Management Edition of the FMCSR.
DATE AND LOCATION:
October 29, 2021
Time: 8:30 a.m. to noon
Fee: $85 for MMTA members | $145 for non-members
To be held at the MMTA office at 142 Whitten Road in Augusta.
Pre-registration is required!