Description
This training provides students with the theory of electricity, Ohm's Law, and the skills needed to correctly use volt meters, amp meters, and ohm meters. Further learn to:
Understand how electricity reacts to changes in voltage, amperage and resistance
Troubleshoot and diagnose electrical systems in a safe and systematic approach
Read and understand wiring diagrams to help quickly and correctly diagnose electrical faults
Develop skills necessary to the use of advanced electrical and electronic testing equipment in testing and diagnosing electrical and electronic control systems on modern trucks
Get tips on how to quickly and correctly diagnose most two- and three-wire sensor circuits
Only 20 seats are available for this seminar.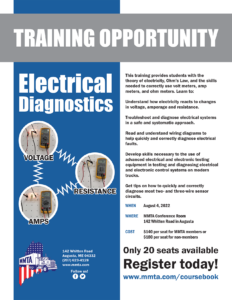 When
August 4, 2022
8:30 a.m. to noon
Where
Held at the MMTA conference room at 142 Whitten Road in Augusta.
Cost
$140 for members | $180 for non-members
Be sure to follow us on social media to learn about upcoming trainings!
Register