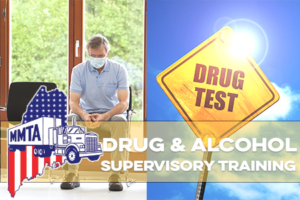 The Federal Motor Carrier Safety Regulations mandate that all drivers required to have a commercial driver's license be part of an alcohol and drug testing program. Further, that supervisors must be trained to identify the physical, behavioral, speech and performance indicators of probable alcohol misuse and use of controlled substances.
DATES AND LOCATIONS:
November 12, 2021
Time: 8:30 a.m. to 11:30 a.m.
Fee: $70.00/attendee for MMTA members | $95.00/attendee for non-members
To be held at the MMTA office at 142 Whitten Road in Augusta
Pre-registration required!