Description
Attention foremen, supervisors, managers, and team leaders! Are your service technicians removing a wheel to service the truck? Unaware of the safety and inspection needs of wheel service? Not in compliance with basic tire service training?
If you answered YES to any of these questions, you need to send your technician to our next seminar. This one-day class, "Basic Commercial Tire Service" provides training for new hires and experienced technicians how to mount a wheel using the latest guidelines in wheel safety and mounting procedures. If you contract your wheel mounting services, be sure to find out if they're certified!
Only 20 seats are available for this seminar.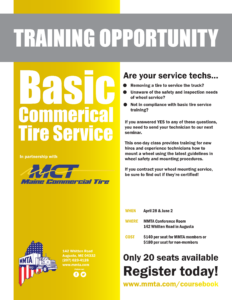 When
2023 – TBA
8 a.m. to 4 p.m. Lunch is on your own.
Where
Held at the MMTA conference room at 142 Whitten Road in Augusta.
Cost
$140 for members | $180 for non-members
Be sure to follow us on social media to learn about upcoming trainings!
Register