IMPORTANT NOTICE:
Table assignments and tickets will start to be mailed after Christmas.
Don't miss the largest gathering of the year for Maine's trucking industry on January 12, 2023 at the Sheraton Sable Oaks in South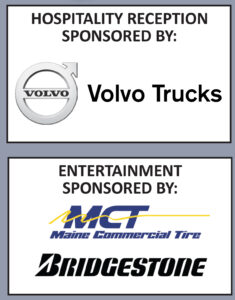 Portland, Maine.  Click here to download the event details.
PLEASE NOTE THE NEW LOCATION – SHERATON SABLE OAKS!!
Complete tables of 10 are available. If multiple tables are requested, we will put them together if possible (early reservations help). All tables and individual ticket seating is on a first come, first choice basis. No refunds are possible after December 30, 2022.
IMPORTANT: ALL TICKETS ARE PAYABLE IN ADVANCE AND NO TICKETS CAN BE SOLD AT THE DOOR (DUE TO MEAL GUARANTEE REQUIREMENT).
5:00 pm – Hospitality Reception – sponsored by Volvo Trucks
6:30 pm – Dinner
7:30 pm – Awards
8:00 pm – Entertainment – sponsored by Maine Commercial Tire & Bridgestone