Do you wish there was a way to pay ONE amount and be recognized as a MMTA sponsor all year? More than a dozen members have done just that by taking advantage of bundled pricing and hassle-free advertising in support of one of the largest and furthest-reaching membership organizations in the state of Maine.
Participation in this Annual Sponsorship Program is an easy, effective and efficient way to support the MMTA and be sure your company is recognized all year round. In exchange, your company will receive recurring exposure in the Maineline E-Newsletter, prominent recognition on MMTA's website and at our Annual Banquet, TDC, PTSC, golf tournament, Transportation Safety Conference and every seminar we host whether it is in-person or virtual.
New this year at the Platinum ($3,500) level is recognition on the John W. Austin Scholarship Fund Award letter – a sample of what that would look like can be found HERE. We think this new addition is a great incentive for additional participation in the Annual Sponsorship program because next year's recipients will receive one of nine scholarships for up to $2,500 each, replacing the old amount of $1,000 each. Plus, it is a great way to get the next generation of workforce participants to start thinking favorably about your company.
What are the benefits of this Annual Sponsorship Program?
It supports an organization whose sole purpose is to help trucking in Maine.
Guaranteed visibility for your organization within the transportation industry – if you are not being recognized as supporting the MMTA, chances are your competitors will!!
No more worrying if your organization has or hasn't sent in the paperwork for all of the events – you do it once and you're done for the year!
No more concerns about which events to sponsor.
No more remembering to leave enough in the advertising budget for a MMTA event late in the year.
Recurring exposure to our 1,700 member companies!
Here is a breakdown of what will be included at the Platinum ($3,500) and Gold ($2,500) level Annual Sponsorships: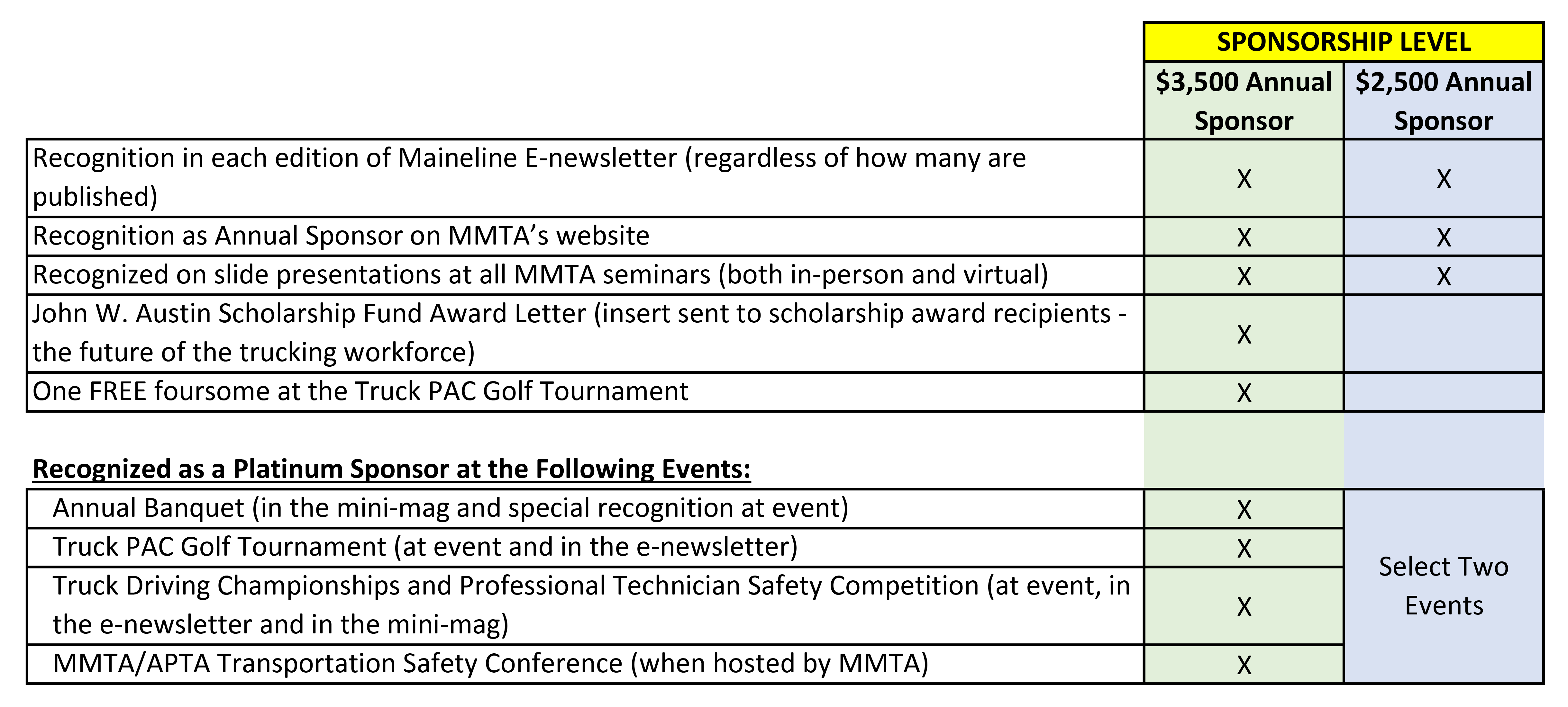 For more information, please contact Brian or Tim at the MMTA.