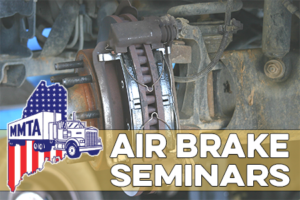 Description
Have you or your technicians been making the same type vehicle brake repairs for years?
Are your current methods costing you time and money because what worked years ago just doesn't work now… Or are you replacing components because maybe this sensor will fix the problem?
Or perhaps there are a few new systems out there that are just a little beyond your understanding?
What you will learn from these seminars:
How your brake systems are supposed to work
How to identify problems the first time, and eliminate needless replacement of components
Common sense approaches to performing a brake job, and
Diagnostics and proper maintenance on today's popular brake systems.
Only 20 seats are available for this seminar.
Basic Air Brake Systems
This first series reviews Air Systems. This course covers the basic functions of valves and how they relate to brake balance and wear. This class will provide the participant with the ability to identify: the charging system, primary system, secondary system and the park and emergency system. In addition, the participant will learn how to troubleshoot these systems independent of one another, diagnosing a compressor or governor problem and how the tractor and trailer air systems work together. The participant should acquire the ability to correctly identify the problem the first time and eliminate the needless replacement of components. The maintenance of Air Systems is included in this class.
Air Brake Foundation
This second seminar is a common sense approach to performing a brake job. The participant learns:
To disassemble the wheel end with a complete analytical look at the components
To diagnose wear patterns and component failure to determine air system problems versus foundation problems
Acceptable tolerances and whether or not the component should be reused
Proper wheel bearing inspection procedures with proper installation methods
Proper wheel seal inspection and installation procedures
The identification of self-adjusting slacks and the proper installation of major brands
Proper installation of brake chamber assembly and proper cutting of the push rod and slack mounting, and
Identification of brake shoes and linings used today including the new generation of extended service FSMI numbers
All methods and procedures are demonstrated in a training environment using working models. Attendees receive a certificate of achievement upon conclusion of this course.
Air Brakes ABS Systems & Disc Brakes
The final seminar offers diagnostics and proper maintenance on ABS systems. It covers the air and electrical function of ABS valves and components. Proper test procedures for ABS computers, wheel speed sensors along with some good general electrical trouble shooting techniques. Hands on use of ABS diagnostic software.
If you should have any questions, please contact Randy. There is limited space; therefore, make your reservations early. 
When
October 25, 2023- Basic Air Brake Systems
November 1, 2023 – Air Brake Foundation
November 8, 2023 – Air Brakes ABS & Disc Brakes
9 a.m. to 3 p.m. Lunch is on your own.
Where
Held at the MMTA conference room located at 142 Whitten Road in Augusta.
Cost
$140 for members | $180 for non-members
Register