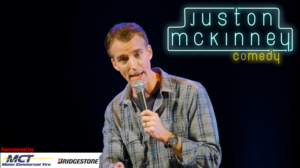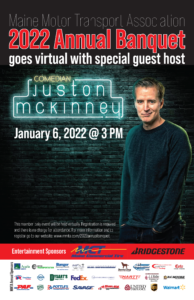 Due to concerns regarding COVID-19, the Board voted to have this event virtually in lieu of gathering in Portland as previously planned. Please join us on January 6, 2022 starting at 3 pm, via ZOOM, for the largest gathering of Maine's trucking industry with our special guest, Juston McKinney.
This event is for members only. Registration is required and there is no charge for attendance. Once you're registered and accepted, you will receive a link to the Zoom meeting along with the date and time. We ask members to consider providing a conference room for your employees to view this event as a group to allow for as many people as safely allowed.
Registration is CLOSED for this event.
Thank you to our entertainment sponsors:

Thank you to our Annual Sponsors: