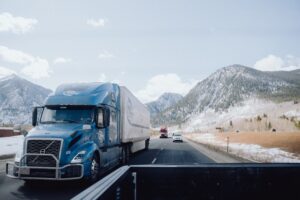 With winter soon to be on our door step, drivers of commercial motor vehicles and motor carriers must continue to be mindful of safety, and all that winter in Maine brings with it. Talking with your drivers about the winter driving season is recommended and the following safety tips might be helpful:
Allow extra warm up and driving time for windows to defrost and for slower speeds on slippery roads.
Remember routine maintenance items such as tires, wiper blades, fuel filters, bulbs, etc.
Keep headlights, tail lights and mirrors clean of snow and dirt.
Give snow plows extra room and don't pass near bridges.
Watch out for black ice, leaf covered roads, children playing in snow banks, etc.
Increase following distance to allow for slippery roads.
Consider chains and carrying sand in case extra traction is required. Check other safety items in truck such as triangles, flares, fire extinguisher.
Keep tanks full of fuel and stay with vehicle if stranded.
Use extra caution climbing out of the tractor and on and off trailers. Remember to use three points of contact with the tractor at all times. Be careful of slippery parking lots.
Remember ice and snow on trailers. Do the best you can to clean the tractor and trailer of snow and ice utilizing all safety precautions. Consider contracting with companies that perform these services or utilizing commercially available trailer scrapers.
Always wear your seatbelt.
Note:  Some state laws require ice and snow to be removed from tractor and trailers prior to operation. While Maine does not require vehicles to be clear of snow and ice, MMTA recommends that, in the interest of safety and courtesy, all efforts are taken to safely clear them prior to operating on public ways.  Click here for more information about snow and ice removal.
When prepared, winter can be a great time of year. Companies can also take advantage of the slower time of year, from the business perspective, to catch up on safety training, maintenance of files, and ensuring that you are in compliance with requirements of the federal regulations. If you have questions, or would like to schedule training, contact Randy or Tim.