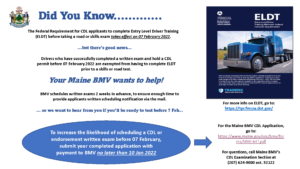 Maine BMV has announced the timeline for those interested in receiving a CDL-P or to upgrading an existing CDL, in order to avoid the Entry Level Driver Training requirements due to take effect February 7, 2022. Clicking the image will open the downloadable flyer.
More information on Entry Level Driver Training:
As always, feel free to contact MMTA for more information on ELDT or for compliance help.