It has been about a year since MMTA started to develop and implement the Go Your Way industry image and workforce development campaign designed to spark interest in trucking careers with the younger Gen-Z audience. One of the strategies to accomplish this was to deliver messaging on their social media platforms that focus on real people, doing real work with real down-to-earth personalities that the audience can relate to.
One of the biggest successes of this endeavor has been our YouTube videos where our influencer – Rob Nixon – breathes personality into the videos so folks can see the industry through his eyes as he learns about it. The goal has been to provide an inside look into the industry and generate curiosity and show people that trucking is a viable and exciting career.  Click on the picture below to see the results so far: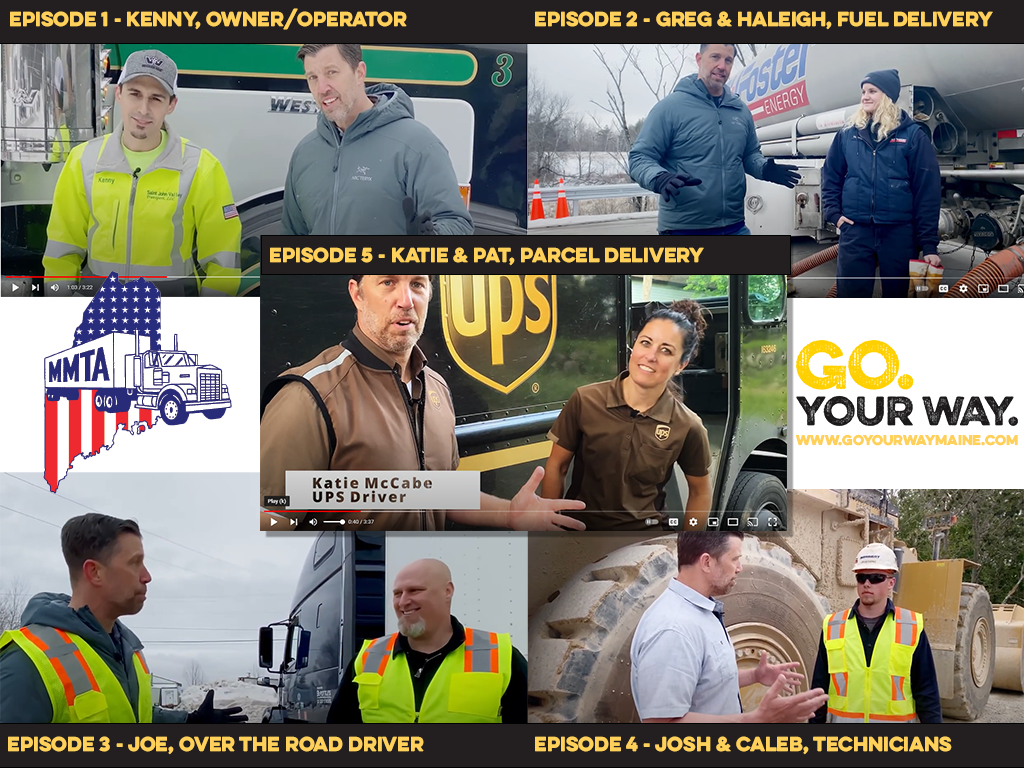 The reason these videos have been so successful is because, as you can see when you watch them, they focus on interesting people doing interesting jobs that matter.  We were able to find these interesting people through the awesome engagement of MMTA members. You told us that you had people that would be good representatives of the trucking industry and made them available for filming.  Now we have an opportunity to springboard off this first year of installments to a second year of 4-6 episodes – BUT WE NEED YOUR HELP!
If you have an employee with a good story to tell, who goes to interesting places, has interesting hobbies in their spare time made possible by a career in trucking or someone who is a quintessential Maine character, WE WANT TO HEAR FROM YOU!!  Our marketing company, Ethos, has sketched out a rough list of topics to consider for this year, but some of that could be driven by the response we get from MMTA members with this call-to-action. Please reach out to Brian (bparke@mmta.com) with your employee recommendation for consideration.
It cannot be stressed enough that these videos aren't meant to be about one person, one type of job or one company. The idea is to focus on the industry in general terms to spark interest in the wide variety of opportunities to make a very good living working with great people doing essential jobs.
Please consider helping us help you by suggesting one of your employees to be the focus of a future YouTube video for the Go Your Way workforce development campaign.
Thank you,
Brian