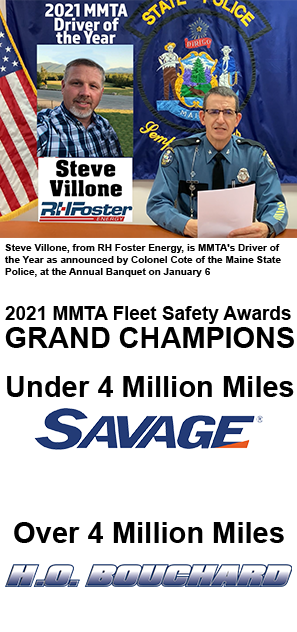 Every day of the year, the trucking industry ensures that critical supplies reach their destinations even during these challenging times with the expanded pandemic. In fact, over 84% of Maine communities depend exclusively on the professionals in this industry to move their goods. As a direct result of office support, freight handling, technicians, and drivers, every product that is used is made available because of the trucking industry. Investing in safety in every aspect of this industry is paramount to keeping the economy moving forward.
On Thursday, January 6, the MMTA annual Fleet Safety Award winners were announced. The Fleet Safety Awards are issued to member trucking companies for their overall fleet safety records, categorized by miles driven collectively as a company over the past year. The 2021 Grand Champion for the category of Under 4 Million Miles was granted to Savage Services of Auburn, Maine. The 2021 Grand Champion for the category of Over 4 Million miles was granted to H.O. Bouchard, Inc. of Hampden, Maine.
As part of the Annual Banquet celebration, Colonel Cote, of the Maine State Police, presented Steve Villone, of RH Foster Energy, with the Driver of the Year award. Steve was nominated by his member company to receive the Driver of the Month award in June of 2021. MMTA's Driver of the Month recipients have been professional truck drivers for a least a year, drive for a member company, and have a good safety record. Many recipients have been a safe professional truck driver for decades. These twelve drivers have logged over 20 million accident-free miles over the course of their careers!
All of the award winners represent the best of the trucking industry here in Maine and we congratulate them for their service, professionalism and commitment to highway safety.
The event, held virtually, was emceed by comedian Juston McKinney.
Fleet Safety Award Winners
Under 1 Million Miles
3rd Place: Brown Bear Transportation
2nd Place: Sazerac Transportation
1st Place: Savage Services
1 Million to 4 Million Miles
3rd Place: Heniff Logistics
2nd Place: Brown Dog Carriers & Logistics
1st Place: Sibley Transportation
Over 4 Million to 9 Million Miles
3rd Place: H.O. Bouchard, Inc.
2nd Place: RF Chamberland, Inc.
1st Place: Poland Spring
Over 9 Million Miles
3rd Place: Hartt Transportation Services
2nd Place: Pottle's Transportation
1st Place: Walmart Transportation
Event photos of Juston McKinney and the RH Foster Energy team with MMTA Driver of the Year award winner, Steve Villone.