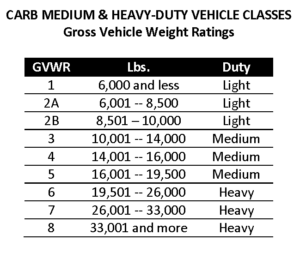 October 7, 2021 – Today, the Maine Board of Environmental Protection decided to pursue routine technical rulemaking to adopt California's Advanced Clean Trucks (ACT) program as part of Maine's Climate Action Plan.  The reasoning behind the adoption is to prioritize greenhouse gas (GHG) reductions strategies for sectors that contribute to the formation of ozone, GHG emissions and particulate matter which is why this focuses on medium and heavy-duty trucks with GVWR over 8,500 lbs.
According to the California Air Resources Board, the proposed rule would encourage "large-scale transition of zero-emission (ZEV) medium-and heavy-duty vehicles".  And it would accomplish that by requiring CMV manufacturers to sell ZEV (electric) trucks as an increasing percentage of their annual Maine sales from 2024 to 2035 according to the following schedule:
55% of Class 2b–3 truck sales would have to be ZEVs;
75% of Class 4–8 truck sales would have to be ZEVs;
40% of truck tractor sales would have to be ZEVs;
A component of the California rule is company and fleet reporting requirements where retailers, manufacturers, brokers and others are required to report information about their shipments. Fleet owners, with 50 or more trucks, are required to report about their existing fleet operations, all for the purpose of helping to "identify future strategies to ensure that fleets purchase available zero-emission trucks and place them in service where suitable to meet their needs." MMTA has been assured by the Maine DEP that this reporting component IS NOT part of the Maine adoption and will not be included in the final rule. We mention it as a future concern now that California is moving ahead with broadening the program to include fleet ZEV adoption thresholds.
For our part, the MMTA has some obvious concerns about the practical realities of such a mandate, the timeframe of implementation and the likely (and foreseeable) impacts on the supply chain and the Maine economy. The Public Hearing has been scheduled for 9:00 a.m., November 4, 2021, at the Augusta Civic Center, 76 Community Drive, Augusta. Written comments are due by November 15, 2021 and should be mailed to Lynne Cayting, Maine Department of Environmental Protection, 17 State House Station, Augusta, ME 04333.
Click here for the California Air Resources Board Advanced Clean Trucks Fact Sheet (with any reference to California in the fact sheet, replace with Maine to know how this would impact us).
For questions, please contact Brian – bparke@mmta.com.