Reprinted with permission (H.O. Bouchard)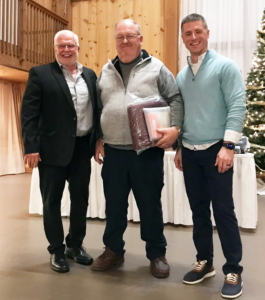 Reginald Ward entered the H.O.Bouchard 4 million-mile club on December 10, 2022 after 41 years as an HOB driver. Reggie is only the 2nd driver to ever reach this milestone at H.O.Bouchard, Inc.
Reggie Ward began his career as an owner/operator at H.O.Bouchard, Inc on Dec 23, 1979. His father, Winston Ward, suggested he come work for us. Winston was also an owner operator who came to us with the acquisition of Ralph E. Curtis and Son Transport in 1977.
Originally from Fort Fairfield, Reggie and his wife Sharon built their home and their family in Presque Isle, ME. That is still their home.
Reggie, his brother Russell and their dad Winston hauled lumber and building materials for us with their own trucks and flatbeds. Reg was 21 years old when he started his career with H.O.Bouchard, Inc. One of just a few to begin that young.
In June of 1992 Reggie sold his equipment and began working for H.O.Bouchard directly as an employee. He has remained with us ever since.
Reggie has always been very flexible and hauling whatever the company needed him to do. He has hauled lumber, building materials, wood chips, heavy fuel oil, chemicals, diesel fuel, gasoline and home heating oil.
Reggie was always our go to driver when a customer had to have their product in the worst weather. The fact that most of his career he has been driving in Aroostook County, Quebec and New Brunswick in Canada puts an exclamation point on his 4,000,000 accident-free miles!!!
In his early years he would haul lumber and potatoes to New York City markets from northern Maine. It takes a driver with great skill and patience to maneuver in that area without a scratch.
Drivers look up to Reginald Ward as an example of a true professional driver.
In 2002 Reggie was chosen as Employee of the Year by H.O.Bouchard management.
He received his H.O.Bouchard 25-year watch in 2004.
Reggie Ward was chosen as Maine Motor Transport Association Driver of the Year in 2014.
Reggie is currently the longest-serving employee still working at H.O.Bouchard.
Congratulations Reginald Ward for an amazing accomplishment.