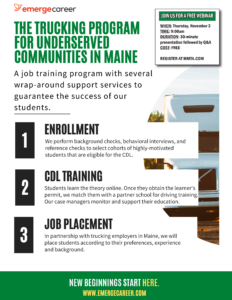 Emerge Career is a gov-tech company designing hybrid job training programs that can lift low-income individuals out of poverty, especially those impacted by incarceration. Their flagship program is CDL training that includes individualized case management, data analytics, and a job placement platform.  MMTA is bringing you a FREE webinar to see if there is an opportunity for your company to partner with Emerge Career relative to your workforce needs, current and future.
Webinar Details:
When: Thursday, November 3, 2022
Time: 9:00am
Duration: 30-minute presentation followed by Q&A
Registration: CLICK HERE (After registering, you will receive a confirmation email containing information about joining the webinar)
Cost: FREE
CLICK HERE TO REGISTER:
https://us02web.zoom.us/webinar/register/WN_NWVRBPYCQa6cl3F2vOXvcQ
More about the Emerge Career Program:
To date, 87% of Emerge's students have successfully graduated, and 100% have obtained employment paying on average >$60K / year.
We recently worked with CT State Sen. Will Haskell, MTAC and CBIA to pass SB334 in CT creating a prison-to-employment pipeline for the trucking industry. Our technology is already being adopted by  Connecticut and Rhode Island.
Our ask:
We're working with the Maine Department of Labor to bring our innovation to Maine. We're looking for trucking companies interested in hiring our entry-level drivers.
Research shows  that second-chance employees are more motivated and loyal. Moreover,  second chance employers can also recoup wages through the Work Opportunity Tax Credits ($2,400 – $9,600) for every new hire.
Additional Information: