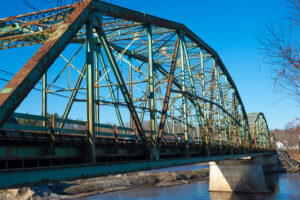 MDOT announced yesterday that the FRANK J. WOOD bridge is now closed to all commercial motor vehicles.  This decision supersedes the previous posting of 10 tons.
Effective immediately, all commercial motor vehicles meeting this definition are prohibited from crossing the bridge between Topsham and Brunswick.
Commercial motor vehicle.  "Commercial motor vehicle" means a motor vehicle or combination of motor vehicles used in commerce to transport passengers or property if the motor vehicle:
Has a gross combination weight rating of 26,001 or more pounds inclusive of a towed unit or units with a gross weight rating of more than 10,000 pounds;
Is a bus;
Is of any size and is used in the transportation of any materials that have been designated as hazardous under 49 United States Code, Section 5103 and require placarding under the federal Hazardous Materials Transportation Act and related regulations in 49 Code of Federal Regulations, Part 172, Subpart F or any quantity of a material listed as a select agent or toxin in 42 Code of Federal Regulations, Part 73; or
Has a gross vehicle weight rating or gross vehicle weight of 26,001 or more pounds.
It is important to note that this definition prohibits commercial motor vehicles regardless of actual weight, if the gross vehicle weight rating meets or exceeds 26,001 pounds.  Vehicles found to be violating this posting may face fines of up to $325.