Partners for a Zero Emission Future
The transition to commercial zero-emission vehicle (ZEV) fleets is underway – but the installation of medium- and heavy-duty (MHD) ZEV charging infrastructure is not keeping pace. A new study from the National Grid, conducted with leading transportation analytics organizations CALSTART, RMI, Geotab and Stable Auto, shows the scale of power MHD ZEV fleets will need when plugging in at fast-charging stations.
Focusing on highway fast-charging in Massachusetts and New York, the study found that light-duty charging alone will mean some stations will require as much power as a stadium – and when MHD ZEVs are factored in, some of these stations will need as much power as a small town.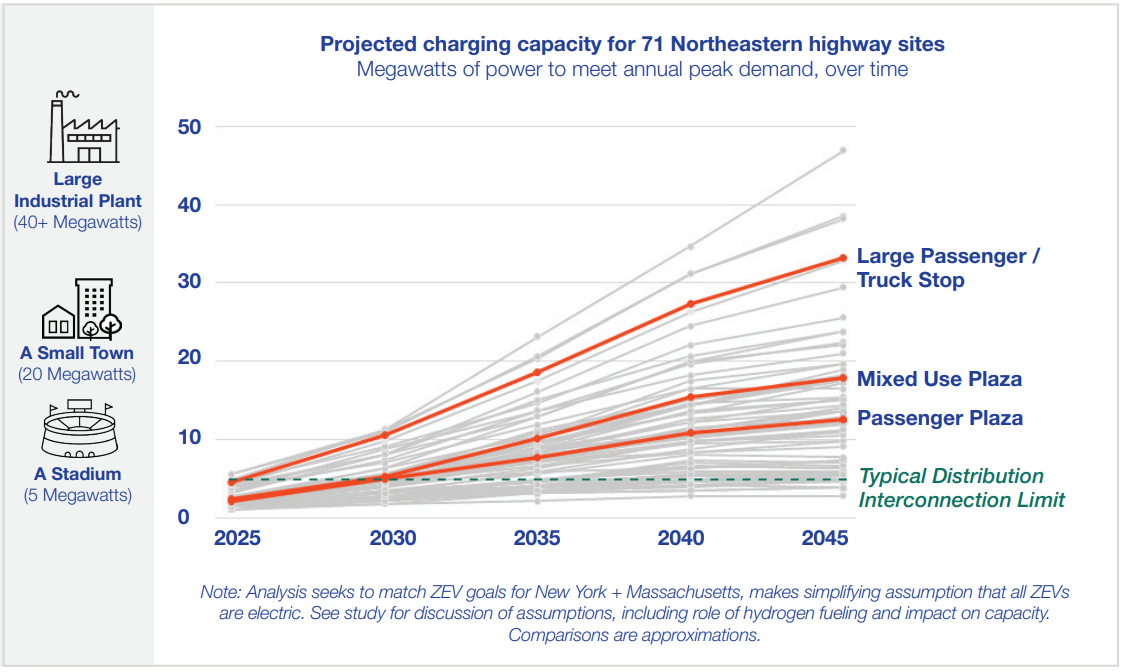 Source: National Grid
The study notes that MHD ZEV charging needs can be met by highway fast-charging, and high-demand sites could tap into the high-voltage transmission lines that often follow the same routes as highways. The study concludes that future-proofing the grid at high-traffic sites is a must in order to limit the need for duplicative upgrades – and accelerate the rollout of fast-charging as a result.
Visit us online at www.pzevf.org to learn more about our coalition and efforts.
To stay updated about additional information and opportunities to make a difference, sign up on our website or email us directly at info@pzevf.org.