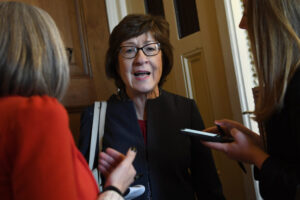 Senator Susan Collins, along with 13 other US Senators, sent a letter to President Biden urging his administration to work with their Canadian counterparts to reconsider their impending vaccine mandates that will go into effect in January due to the negative effects it will have on international surface commerce between the two countries. Both of these mandates will bar professional truck drivers from crossing the border unless they are fully vaccinated against COVID-19. The more restrictive Canadian vaccine mandate states that essential service providers, including truck drivers, will only be allowed entry into the country if they are fully vaccinated with one of the vaccines approved for entry.
Professional truck drivers were critical in cross-border freight movements at the height of the pandemic and they are needed now more than ever. In Maine, one out of every 16 jobs is trucking related. Over 84% of Maine communities depend exclusively on trucks to move their goods. If these mandates were to go into effect, it will not only worsen the supply chain issue here in Maine but it may cost these professionals their jobs.
MMTA is concerned with the impacts these vaccine mandates would have on our members, the Maine economy and the nation's supply chain and we thank Senator Collins for standing up for Maine's trucking industry.