Reprinted from Transport Topics
July 29, 2019 1:30 PM, EDT
The American Transportation Research Institute is accepting comments and concerns from trucking industry representatives.
The nonprofit research organization launched its 2019 Top Industry Issues Survey on July 29. The survey, conducted every year, invites members of the industry to rank the top issues the industry faces, as well as present strategies for addressing these issues.
This is ATRI's 15th year leading the survey. The group's analysis ranks the issues overall and also offers a detailed look at how certain topics are ranked differently by carriers and drivers.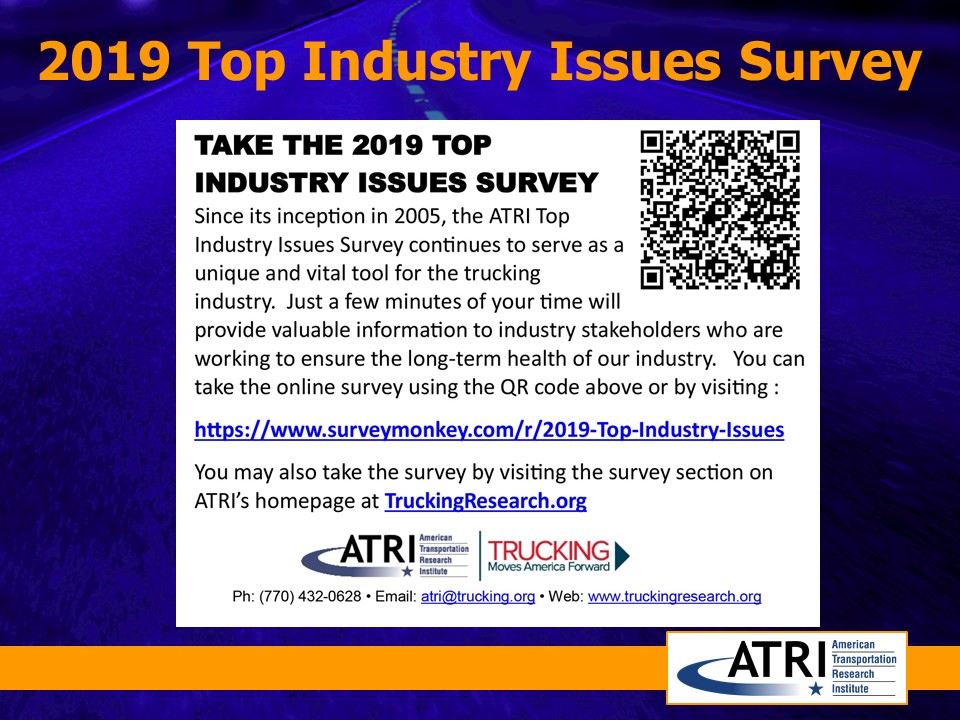 "This survey gives everyone in trucking, from drivers to executives, a chance to weigh in on the industry's most pressing issues and strategies for addressing each," said American Trucking Associations Chairman Barry Pottle, who also is CEO of Pottle's Transportation. "By participating, you are helping our industry speak with a collective voice on what is most important to us."
The survey results will be released at ATA's annual Management Conference & Exhibition, which will be held in San Diego on Oct. 5-9.
The same group of issues tends to dominate the list year by year. The industrywide driver shortage ranked No. 1 on last year's survey results, released Oct. 29. ATA has reported the industry was short more than 60,000 drivers in 2018.
In a driver shortage report issued July 24, ATA estimates that the industry will need to hire 1.1 million new drivers over the next decade to keep up with freight demand.
The shortage has been a top-three issue in 12 of the 14 years ATRI has conducted its survey. Other top issues include hours-of-service rules and the industry's calls for increased flexibility, driver retention, the electronic logging device mandate and the lack of available truck parking.
Compliance, Safety and Accountability, distracted driving, congestion, driver health and the economy also are pressing issues for members of the industry.
ATRI's online survey gauging industry concerns will remain open through Sept. 20.