"Traveling—it leaves you speechless then turns you into a storyteller."  -Ibn Battura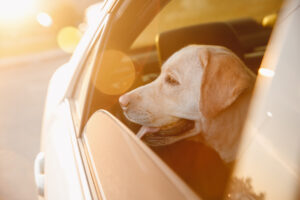 A desire to work remotely from a favorite destination of ours led us to spend a few weeks in Sedona, Arizona. Wanting our elderly Golden Retriever to accompany us, we packed up our Subaru and drove 2,951 miles from Northern Maine. We planned a few sights to break up the travel–Niagara Falls and the Petrified Forest to name two. Our long days of driving, congested traffic spots and frequent tank fill-ups were going to be worth it once we made our Red Rock arrival. Our excitement was overshadowed by a sense of empathy—empathy for professional truck drivers. Because I have insider knowledge to the transportation industry, working in the field for over 25 years, I thought I understood the successes and the struggles drivers experience. Not until traveling with my partner and my dog, did I truly gain a holistic understanding. Major East-West highway routes like I-90, I-70, I-44 and I-40 were teaming with men and women from all ethnicities who are doing such an important job. We tend not to think about these people until our Target or Blue Apron Box is delayed or empty shelves appear in our local grocery stores.
While our dog, Ryder, slept in the back seat, we continuously observed the general public cut-off truck drivers, ignore speed limits, refuse to use their directional signals when changing lanes, drive distracted, follow way too closely and slam on their brakes in front of the vehicle hauling 80,000 pounds on failing roads.  Almost all the truckers that we passed were focused, obeying speed limits, ready to react to the unpredictable, careless decisions of other motorists at a moments notice. We witnessed truckers lined up at rest stops, often retiring on the entrance and exit ramps because there was nowhere to park. Federal regulations require drivers to log rest after hours of service.
On this trip, the transportation profession was brought up close and personal. I believe we need to show a level gratitude in how we think about drivers by supporting the laws we enact and deciding how to spend our tax dollars. In five weeks, we will reverse our trip and head back to the Northeast knowing that professional drivers are taking their jobs seriously. Thank you to all those drivers who connect us with the products that we need and want daily.
I refer to my initial quote by a 14th century Moroccan scholar and traveler who logged over 75,000 miles in his lifetime, "Traveling… turns you into a storyteller." This story may not be filled with exciting unpredictable plot twists but rather a small depiction of what we viewed on our cross-country trip. I do not have all the answers, but I do know we need more truck stops with adequate parking spaces. We need more evenly tarred roads and appropriate signage. We need comprehensive new drivers' education. We need to encourage private passenger vehicles to stay alert and aware, remain cognizant when entering and exiting ramps, follow at a safe distance, and use signals when changing lanes. In our ego-centric current world, it benefits all of us to put ourselves in others' shoes, or in this case, others' tires. Happy and safe traveling.
-Ed Therrien, Julie French and their canine co-pilot, Ryder